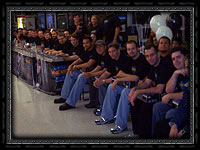 To celebrate the launch of the new Warcraft III expansion set, members of the Frozen Throne development team and Blizzard were on hand at midnight on Tuesday, July 1st to meet with customers, discuss Blizzard's current games, and autograph copies of Warcraft III: The Frozen Throne at Fry's in Fountain Valley, California and Sunnyvale, California.

At both locations, customers started lining up early, and there was quite a line by 11:30 p.m. on Monday night. The lines were several persons wide and went all the way around the building! The parking lot at the Fountain Valley store was full and some people had to park down the street (it's a HUGE parking lot too). When the doors opened, customers started forming lines (filling up the aisles) to purchase Warcraft III: The Frozen Throne. Blizzard had signings at the same locations last year for Warcraft III: Reign of Chaos, and this time there were even more people! At 12:00 a.m. the registers were opened and people began buying games and accessories. The first 500 people (while supplies lasted) also received a free Warcraft III: The Frozen Throne T-shirt. After making their purchases, customers could then line up for autographs.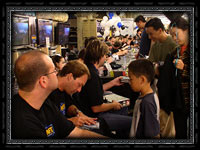 At the Fountain Valley store, there were people from the Warcraft III team, Cinematics, Sound, PR, Blizzard HQ, and more. There were so many Blizzard people (see a screenshot) that they extended past the table with additional chairs! Some Blizzard people signed games using keyboard boxes as a table, which people found funny. There was even a second row of Blizzard people where diligent fans got extra autographs if they made the effort to ask (and many did!). Blizzard employees used teamwork (also shown in the games) to have as many as 5 people signing a game copy at the same time. Some lucky people got little pictures drawn on their boxes by Blizzard artists and other Blizzard employees who just enjoy drawing little pictures =) Fans had all sorts of things to autograph, including manuals and CDs from The Frozen Throne, posters, and the Warcraft art book from last year's Warcraft III: Reign of Chaos Collector's Edition, which many people brought with them to have signed. One person had us sign a blank piece of paper, which we thought was funny. One of the Warcraft III development team members entertained the crowd with wacky comments as they waited.
The autograph session at the Fountain Valley Fry's lasted all the way until 2:45 a.m., when the last person at the end of the line came through. We were surprised to see people wait that long! That's dedication! Some people had even driven quite a long way to be there. Blizzard people were tired but were very happy to be at the event and see such happy and excited game players. This is what we live for!
The Sunnyvale location was equally as successful with key members of the Warcraft III development team (including company president Mike Morhaime and vice president Frank Pearce) and other Blizzard members showing up at that location.
One customer didn't know what the game was, but a friend several states over had made him come buy it and get it signed!
There were many parents who turned out with their children to buy the game. Thanks mom and dad!
At the Sunnyvale location, we even had one protestor who wanted the Diablo II 1.10 patch. Pretty funny =) A lot of fans asked us about its release. Diablo II fans didn't have to wait long. Two days later, Blizzard released the beta of the Diablo II patch, so their request was quickly answered! We're also working to bring the final release of Diablo II 1.10 as quickly as possible!
One new Blizzard employee brought his wife to show them the excitement surrounding the launch. She had no idea how excited game players could be!
One customer brought a laptop with him and installed the game and was playing it while he was in line. Couldn't wait huh? =)
Two Blizzard customers together bought 10+ copies of Warcraft III: The Frozen Throne. When asked about it, they said they were buying it for all their friends!
The final count was over 750 copies of Warcraft III: The Frozen Throne sold at each location! Thanks to everyone who showed up to the events. We had a lot of fun and hope you did too. We look forward to meeting you again at future events!
Sunnyvale
Fan Site Reports
*World of War.net
*WoW Central