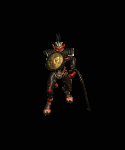 Sabre Cat (Animal)
Huntress, Sabre Cat, Night Tiger, Hell Cat

Sabre Cats are a race of bipedal, intelligent beings with many feline features. These cat-beings were once found only in the jungle environments of Kehjistan, trading freely with the cities there. Although always considered somewhat aloof and untrustworthy, the Sabre Cats had never before behaved in a threatening manner toward human society. But now, marauding bands of these Cats roam the deserts of Aranoch. Many blame the disappearance of whole caravans upon them.
Tips and Other Additional Information
Night Tigers have a chance to deal Cold damage in Nightmare and Hell.
Hell Cats have a chance to deal Fire damage in Nightmare and Hell.