The use of Town Portal Scroll to escape will NOT transport buried units (e.g. Crypt Fiends), units caught in web or else trapped (e.g. Entangled). It will also not transport units swallowed by Kodos, or dragons even if they're still alive (in the beasts stomachs). The same counts for Gargoyles in stone form. If you need to quickly retreat an army of Crypt Fiends, it's best to burrow them, hit the Town Portal, wait approx. 1 second and then unburrow them. This way your army will become invisible (usually equals invulnerable) for the period of channeling the Town Portal. Make sure you unburrow your Crypt Fiends just before the spell is completed. Timing this right will save all but a few units. If you do this incorrectly, you may lose all of them. You might want to leave one burried unit to spy on the enemy town.

Town Portal Scroll Feints
Sometimes, experienced players will perform hit-and-run attacks early in the game for the purpose of making you waste your Town Portal Scroll. In team games, they can do this by having both players of the team send in a few units to give the appearance of a double team (or more with more allies) while the attack is really a fake attack designed to cause you to waste your Town Portal Scroll(s). The feinting players will then attack another location now that you've been drawn away. Make sure the enemy is sending their full force before using your Town Portal Scroll!

Town Portal Scrolls are useful for the following things:
Use Town Portal Scrolls to return to defend your town early in the game
Before Town Portal Scrolls, a common problem players faced was being off adventuring with a Hero and initial troops only to discover their town being under attack. By the time you got back to defend your town you might have lost all your workers and even some buildings. The Town Portal Scroll allows you to return back to your town faster than normally, to defend it if an enemy attacks. Beware of early attacks designed to make you waste your Town Portal Scroll.

Use Town Portal Scrolls to Defend an expansion
When your expansion is under attack, you can use a Town Portal Scroll to teleport to it and save it.

Use Town Portal Scrolls to meet up with allies
You can save time by teleporting to an ally's Town Hall to meet up with him so you can head out and double team (or greater with more allies) the enemy.

Use Town Portal Scrolls to save allies' Town Halls and expansions
If you discover your ally's town is under attack, you can both use a Town Portal Scroll to nearly instantly teleport there to save it.

Use Town Portal Scrolls to Escape!
Expert players often use a Town Portal Scroll to escape certain death from an enemy. Some players decide to use their Town Portal Scroll to save their Hero and some of their surrounding units rather than run or to let them die. But be warned that there is a casting timer so you may lose some units while you're waiting to transport. If the battle is not going your way, it's time to go (port out).

[ Click to Enlarge - 190 KB ]
Player Hello uses a Town Portal to escape a battle that is going badly.

Use Town Portal Scrolls to launch hit-and-run attacks
Sneak into the enemy town and attack it. Wait until you draw all of the enemy players to defend the town and then use your Town Portal Scroll teleport away and attack somewhere else. You can then go buy another Town Portal Scroll. This is very necessary in FFA games to make progress.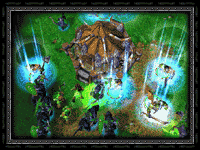 [ Click to Enlarge - 254 KB ]
An Orc player teleports back to save his base.
Team Games
Make sure you tell your allies when to use their Town Portal Scrolls. If you're being attacked and need help, ask them to teleport to you to save you. Generally, good players know when to use their Town Portal Scroll, but newer allied players might need some guidance.
Don't double click on your Town Portal unless you want to go back to your Hall. You need to manually select the right location if you want to go to the right allied Town Hall.
Hero Trap Town
Avoid building "Hero Trap Towns". Heroes can become trapped when they teleport to a Town Hall with a lot of buildings packed closely around it. Leave plenty of space around the Town Hall so that you and your allies can safely teleport to that Town Hall without becoming stuck.
Aiming Town Portals
You can aim where you appear when you Teleport into a town. Just click around the Town Hall where you want to land. You have to scroll your screen to the right location for this to work rather than clicking on the minimap. This is very useful if you're say the melee person (Grunts) and you need to be placed near some enemy ranged units (Archers). You can SPAWN KILL someone (almost) by teleporting on top of them with the right counter. Also if you have some Archers you don't want to teleport right into the enemy melee units, so you can teleport in a good spot.
Additional Tips
Always have a Town Portal Scroll. If you use yours, go buy another one. If the enemy sees you use your Town Portal Scroll they may make attacks thinking you don't have a Town Portal Scroll. Surprise them by getting another one. Remember that enemy players can select your Hero and check your items, however.
Online Privacy Policy
Battle.net Terms of Use Agreement
©2019 Blizzard Entertainment. All rights reserved.