Resources | Economy | Upkeep | Day/Night Cycle | Recon
Hero Basics | Hero Killers | Hero Rushing | Hero Items | Town Portal Scrolls
Hero Control | Creeping | Creep Jacking | Unit Commands | Hot Keys and Special Commands | Unit Control
Unit Stats | Armor/Weapon Types | Air Units | Siege Units
Building Basics | Towers | Invasion | Expansion Towns
Basics | Rookie Mistakes | Combat | Spell Basics | Invisibility | Team Strategies | FFA Tips | Glossary

Now that you have the knowledge of unit commands, you will need to use them in order to control your units. Unit control is what will separate the skilled players from the newbies. If you want to win, you need to use proper control to gain an advantage in every battle. Listed below are some basic tips to always follow.
Hit-and-Run Attacks
Hit-and-run attacks are a key part of Warcraft III combat. Learning how to hit-and-run properly as well as dealing with other players that hit-and-run can increase your playing ability significantly.
When the battle is not going your way, run away! You can run back to towers, allied armies, or your reinforcements. You should always run away rather than continuing to fight a battle that you are not going to win.
Use hit-and-run attacks to bait the enemy into a planned trap such as towers. If the enemy is outside your town, which is defended by towers you can send out one ranged unit, attack them, then run back to the towers. This will cause the enemy to charge into the defenses unless the enemy has them on Hold Position.
In team games hit-and-run attacks can be very effective. Sneak into an enemy town, attack, do some damage, then run away. You can even use a Town Portal Scroll to teleport away. This can often bait the entire enemy army into defending a position allowing your other allies to attack somewhere else while they are away.
Night Elf players should learn how to attack then retreat to their Moon Wells to heal.
Dealing with Hit-and-Run Attacks
Towers and Hold Position are great for dealing with hit-and-run attacks. Place some siege units such as Demolishers on Hold Position by some towers. If the enemy uses hit-and-run attacks, your units will not chase them.
While you are away from static defenses you should use slowing spells such as:
Humans: Slow, Storm Bolt, Thunder Clap
Orcs: Purge, Ensnare, Stasis Trap
Undead: Cripple, Sleep, Frost Nova
Night Elves: Cyclone, Entangle
Neutral: Drunken Haze, Frost Arrows
Ranged units are also useful against hit-and-run attacks, especially on Hold Position.

You can also use long range spells against hit-and-run attacks such as Chain Lightning, Blizzard, and so on.

You should never endlessly chase enemy units. They can pick units off or lead you into traps. If someone is doing nothing but hit-and-run attacks, it is best to take the fight to them by attacking either their main town or their expansions. This will force the enemy to stick around and fight.

The Run Around
When you tell a group of units to attack a single enemy, they will attempt to reach that enemy walking around until they can get a clear shot. When mixing up both enemy and friendly units, sometimes, the path becomes blocked and not every friendly unit can reach its target. At this point, the lost units begin to wander looking for openings, which means they are not adding their power to the attack. Try to limit the time a unit is not engaged in combat to a minimum.

The Run Around has a potential to lose entire battles, even when you outnumber and possibly out-upgrade the enemy when you have units that are not contributing in any way to combat. Those units may end up running around until they get killed before having the chance to respond.

Have As Many Units As Possible Attacking The Same Enemy (Focused Fire)
The more guys you have attacking the same enemy, the quicker that enemy is killed allowing you to move on to the next enemy. Using this method, you can more quickly kill enemy units.

When attacking the enemy, command all your units to attack the same enemy unit. If a unit cannot easily reach the preferred target, instruct it to attack the nearest enemy. Avoid setting up situations where units will do a Run Around.

Watch out for the enemy taking a unit under attack and retreating it while at the same time commanding the rest of their units to attack. Your units may chase the retreating unit which causes them to start walking around rather than fighting. If you use Attack-Move, your units should start attacking the next nearest unit rather than trying to chase the retreating unit. However, depending on the situation, it sometimes can be good to chase a retreating unit. You can also use many Hero spells to finish off the retreating unit.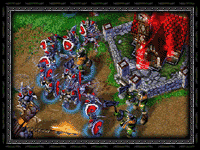 [ Click to Enlarge - 260 KB ]
Footmen surround and destroy a Grunt by the Town Hall.
Make Sure You Get All Your Units Engaged In Combat
If you find any units not engaged in combat, quickly, instruct them to attack the next nearest or preferred enemy to reduce downtime. The more units that are making a positive contribution to the battle, the quicker it will be over.
Keep All Units Together When Attacking
It's quite common to send a force out and have them become separated due to enemy contact or terrain. Sometimes, some units may be faster than others, and the group becomes separated. Before attacking, group everyone together somewhat outside the enemy town or location. Wait for everyone, as each unit may be the difference between winning and losing. You may find yourself losing a superior force to a small number of grouped enemy units if you are not careful.
Using Ranged Units
Ranged Units include such units as Archers, Troll Headhunters, Riflemen, Crypt Fiends, and so on. These units typically have medium armor which means they die very easily to melee units. This means you should always keep melee units away from them. In addition, ranged units often die very easily to spells such as Blizzard, Starfall, and Chain Lightning due to their low hit points. Kill or drive away Heroes so that they cannot use these spells.
There are several tricks to learn when using ranged units that will increase their effectiveness:
Use Focused Fire
It's especially important to use focused fire to finish off enemy units. While melee units have to walk around to reach a single target ranged units can pick and choose which units they want to hit and kill. You should pick enemy targets that are the easiest to kill, the most dangerous, and/or that are nearly dead. Finish them off by selecting all of the ranged units and clicking on the unit you want to kill. Make sure your ranged units don't run into the middle of some melee units to try to reach their target. Once an enemy unit is dead select and move on to the next enemy target. Once you become skilled at this method you can become much more effective with your army.

[ Click to Enlarge - 144 KB ]
The Keeper of the Grove Entangles an enemy Druid of the Talon. The Archers and Priestess of the Moon then use focused fire to finish it off.

Get rid of dangerous targets
Archmages can Blizzard Archers and can easily kill them. Prevent this by selecting all the Archers and using focused fire to attack the Archmage. You will either quickly kill it or will force it to run or Teleport away. If you can kill off dangerous Heroes quickly you can prevent them from using their abilities against you. Ranged units have an easy time killing off Heroes in the hands of a good player using focused fire.

Get rid of other easy to kill targets such as spellcasters or dangerous targets that are helping the enemy group such as Orc Kodo Beasts. Also kill Siege Weapons such as Demolishers or Mortar Teams as soon as you can.

Your ability to pick good targets to kill in the right order and using focused fire can greatly determine the outcome of a battle.

Learn to run
To use ranged units effectively you need to hit and run. If the enemy moves in with melee units, run away, stop turn and fire, then run again and then turn and fire again. Repeat this until the enemy is dead. Often the enemy will stop chasing and you can just sit there firing from range without taking any damage. It's very important to learn how to run effectively.

You can also just command any ranged unit in contact with the enemy melee units to run away but still leave the other ranged units standing around. For example if you have 3 Archers and a melee unit attacks one, select that Archer and command it to run in circles around the other Archers. If the melee unit doesn't give up chase they will be finished off with no damage to the Archers. Usually the melee unit will give up on chasing that Archer and will select the next closest Archer. But you then can simply instruct that Archer to run instead. This is an ancient trick used in Warcraft I that continues on over 8 years later to Warcraft III.

Use Heroes that complement your ranged units
The Priestess of the Moon is great for Archers or Huntresses for example with her Trueshot Aura. The Human Paladin can use Holy Light to heal any of the Dwarven Riflemen under his command as can the Death Knight with Crypt Fiends using Death Coil.

Get upgrades
If you're mostly doing damage and not taking damage, research the damage upgrades first. If it's a mix rotate between the damage and armor upgrades. Get increased range upgrades whenever possible.

In Large Team Games Build Mass Ranged Units
Ranged units are more effective in large groups. While in 1 vs. 1 and possibly 2 vs. 2 games it's best to have mixed forces in 3 vs. 3 and 4 vs. 4 games you can get away with just building a lot of one unit type at a time. You can use your allies melee units to keep the enemy away from your ranged units.

Queuing Enemy Targets
It can be very useful to queue up a list of targets for ranged attackers. This can allow you to move your focus elsewhere letting the ranged units fight on their own. Simply select the group of ranged units, hold down Shift and hit A for attack (or right-click) and select all the enemy units you want to attack. Now release Shift and let them go. Make sure that your ranged units don't chase an enemy if the enemy commander tries to lead your army away. You may also find this useful for Creeping.
Online Privacy Policy
Battle.net Terms of Use Agreement
©2019 Blizzard Entertainment. All rights reserved.